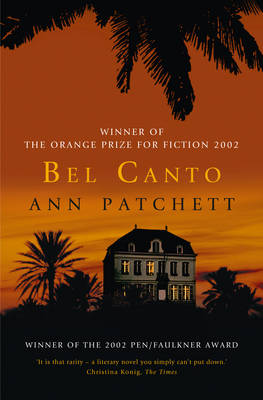 Somewhere in South America, at the home of the country's vice president, a lavish birthday party is being held in honor of the powerful businessman Mr. Hosokawa. Roxane Coss, opera's most revered soprano, has mesmerized the international guests with her singing. It is a perfect evening until a band of gun-wielding terrorists takes the entire party hostage. But what begins as a panicked, life-threatening scenario slowly evolves into something quite different, a moment of great beauty, as terrorists and hostages forge unexpected bonds, and people from different continents become compatriots. Friendship, compassion, and the chance for great love lead the characters to forget the real danger that has been set in motion . . . and cannot be stopped.
I bought Bel Canto as part of Georgie's Christmas present, having given her State Of Wonder in October because I knew she'd love it. But I wanted to read it, too. The blurb – paradise, terrorists, faraway places and faraway problems – reminded me a little of Polly Stenham's Hotel, which I saw at the National Theatre in 2014 and made a deep impression on me (and which made me jump so hard I didn't recover from the shock for several hours). Side note: I saw that in the National's Temporary Theatre, known at that time as The Shed. The Temporary Theatre closed at the weekend, now that the refurbishment of the Dorfman – which it was built as a substitute for – is complete, and I'm sad about it. It was so different from the other theatres, so intimate and involved, in a way that the Dorfman really isn't. I doubt Hotel would have made me jump so hard if I'd seen it in the Olivier, or even the Dorfman.
Anyway, back to Bel Canto. Bel Canto, it turns out, is nothing like Hotel. At all. It tries to get us to see things from the inside, from the point of view of the terrorists, to see the relationships inevitably formed between people who spend a lot of time cooped up together with nothing to do. It's touching, but it's overly simplistic. It tips too far the other way and becomes romanticised. It feels like Patchett is just trying a bit too hard. What I didn't know until now was that it was inspired by real events: the Japanese Embassy Hostage Crisis in Lima in 1996-7. I didn't know anything about this – perhaps if I had, I would have drawn the parallel myself. Instead, I wondered why the country is never named. There seemed to be little point to it, and I feel uncomfortable knowing that this sort-of happened. But without the opera singer.
I enjoyed Bel Canto while I was reading it, but I was hoping for another book on the level of State Of Wonder and it just wasn't. It hasn't stayed with me. It didn't make me clutch my face with horror or pain. It was just enjoyable. But this came ten years before State Of Wonder so I've got high, high hopes for her next book, Commonwealth, which comes out in September.