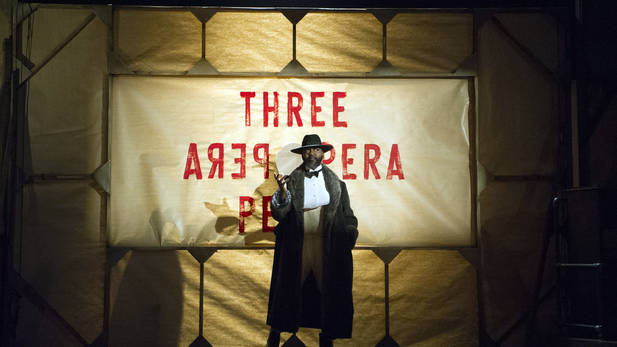 Yet another National Theatre production that I knew nothing about before seeing it, and what a delight! Also, yet another surprise musical! This says a lot about me, probably. 
All I knew about this production was that Rory Kinnear was in it. Rory Kinnear is excellent – I first saw him in The Last of the Haussmans in 2012, which was brilliant – so that was all I needed to convince me. But the vague idea I had of the production – based on no fact whatsoever – was that it would be very long, and rather dull. This might have been, at least in part, because of the last two plays I saw at the National (Waste, and The Flick), which I didn't enjoy at all. But I was so wrong.
If you're as clueless as I am, The Threepenny Opera (Die Dreigroschenoper in German) is a "play with music" (I don't know what makes it different from a musical?) by Bertolt Brecht and Kurt Weill, adapted from The Beggar's Opera (a ballad opera, which is not the same as an opera-opera, but a kind of satire of opera), and premiered in Berlin in 1928. It has since been translated into 18 languages. It's about Macheath (Mack The Knife), a criminal, who marries the daughter of another criminal, Mr Peachum, who organises the beggars – in this version, it's set in the East End of London. Macheath also happens to be a close friend of the Chief of Police, which has kept him out of trouble for a long time – though perhaps not forever. It turns out that Mack The Knife is from this, as is What Keeps Mankind Alive.
The cast is full of faces I recognised, from shows at the National as well as elsewhere, but apart from Rory Kinnear, I didn't know about any of them – including Haydn Gwynne, Sharon Small, Rosalie Craig and Jamie Beddard – until I was watching it. But the best surprise, for me, was getting to see George Ikediashi. I first saw him performing as Le Gateau Chocolat at an Amanda Palmer gig and I've shown him to so many people since because he is properly fantastic and memorable. I recognised him immediately, and was delighted by his performance throughout. The whole thing is wonderful, but The Threepenny Opera is worth seeing it for him alone.
I loved the staging, too. It's in the Olivier, and they make excellent use of the drum revolve (if you know Lauren, ask her about the revolve, she'll probably cry, she loves it that much), so much so that I gasped with delight at one point. They're also very much self-mocking, with things like a box reading "big flag for scene 7" trundling around the stage a few times, and a tin reading "DRUGS", a pink rectangle in Mack's trousers labelled "PINK ENVELOPE", but also incredibly effective use of jerking bloody bags above the front rows during "Cannon Song", and red wool spilling out of clothes as blood, as well as various characters appearing from the rafters on a giant moon. I really enjoy self-mockery in theatre – I think it stops everyone from taking things too seriously.
At the very end, after all the applause, Rory Kinnear came to the front of the stage, to announce that playwright Sir Peter Schaffer had died that day, and asked us to give a standing ovation to honour him. It was a very touching gesture, and I definitely wasn't the only one to do a little cry.
I worry that I won't take as many risks on theatre when I'm too old for Entry Pass: no more front row seats for £5. But I hope I will, because I've seen some fantastic things by taking a chance on them. So probably, I'll just be broke…
The Threepenny Opera runs in the Olivier at the National Theatre until October 2016